Hi all, Kaira here! I was thrilled to be asked by G.G. Andrew to be her first interview for 2016 in her Writers Who Read interview series, which features a writer each week geeking out over books and reading: The first Writers Who Read interview of 2016 begins with author Kaira Rouda. Welcome, Kaira!
Who are you? Hi! I'm Kaira Rouda, and I write sexy modern romance and women's fiction novels sparkling with humor and heart. New to the romance world, I've been a published author since 2009. My family and I live in Laguna Beach, California – the setting for my most recent romance contemporary romance series.
Which book or series was your gateway into the world of reading? Make Way for Ducklings by Robert McCloskey. Second grade. I knew I wanted to be a writer for as long as I can remember.
Nowadays, what makes you crack open a book instead of pressing play on your favorite Netflix show? Same thing. I've always been a reader. I have a pile of TBR books beside my bed, and on my eReader. Reading is life…that said, you do have to socialize in the real world sometimes!
Which authors are auto-buys for you? Why? Jane Porter, because she's my mentor. Melissa Foster, same reason. Beyond those two, I read widely and at different heat levels in the contemporary romance world. I'm also a women's fiction or mainstream fiction writer, whatever that means, so I read a lot in the women's fiction world. Recently, I've been reading stories with a little edge, like The Dinner by Herman Koch, and all of Gillian Flynn's books. I go through phases, because I've also had my murder-mystery phase. See, there is no end to the fun in books.
What is your book kryptonite–those unique settings, tropes, or character types that make you unable to resist reading? For me, setting has been the key. My books, no matter the genre, typically start with place. My Indigo Island series of contemporary romance are set on a fictive South Carolina Sea Island, called Indigo Island, based on the real life island called Daufuskie. Laguna Beach Series is, obviously, set in my hometown of Laguna Beach. When I start with place, it gives me grounding and the setting becomes a very important part of the story. My women's fiction novels to date have been set in a Midwestern Ohio suburb called Grandville, a place very similar to the suburb of Upper Arlington where we lived for many years. Lately, with my romance stories, I've been writing about billionaires, tycoons and celebrities – and these folks tend to hang out at the beach, and in LA and New York City. It has been a blast. All three of my Kindle Worlds novellas are set in New York.
What is your ideal time and place to read? At night. In my bed, with my puppies cuddled close.
Are you a re-reader? Why or why not? Nope. I can count on one hand the number of times I've re-read a book.
Which books have had the biggest influence on your writing?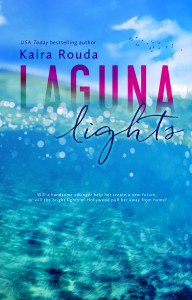 Bird by Bird by Anne Lamott, On Writing by Stephen King, Writing Down the Bones by Natalie Goldberg
What makes a book a satisfying read for you? A book is satisfying to me if it lingers on the brain after the last page. When I'm thinking about the story, its characters, long after I've finished, that's a good book. Years later, well, that's a great book.
What are you reading right now? Tenth of December by George Saunders. My book club read it, but I was on deadline so I couldn't read it, didn't even buy it, before we met. I know, a slacker. But I still went to the meeting and was mesmerized. (We have a fabulous book club leader who speaks with a South African accent and makes literature sparkle and shine.) After book club I knew I had to get the book – a collection of short stories – and read it. It's fabulous. And yes, memorable.